DANE TECHNICZNE:
min. wymiary działki
18,55m x 20,05m
EUCO 24,26 kWh/m2/rok
liczba stanowisk w garażu
0
RZUT PARTERU
Suma pow. pomieszczeń89.32m2
wiatrołap3,90m2
kuchnia7,42m2
salon z jadalnią28,50m2
pokój12,55m2
pokój12,54m2
łazienka5,69m2
wc z pralnią6,17m2
pokój12,55m2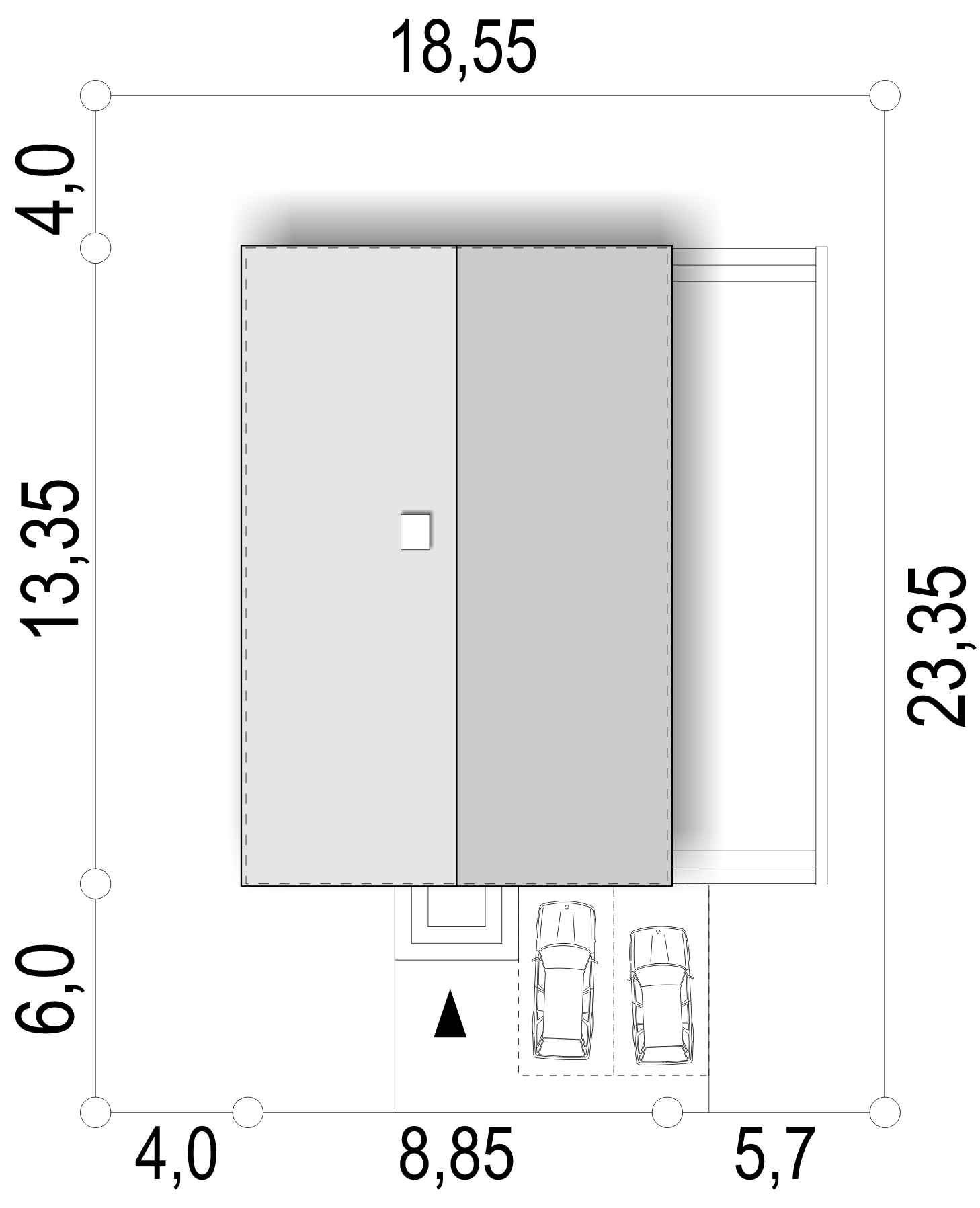 Dom parterowy o prostej konstrukcji. Wejście budynku zlokalizowano w ścianie szczytowej od frontu. Kuchnia ma widok na strefę wejściową i jest zlokalizowana w bliskim sąsiedztwie tarasu zewnętrznego. Ponieważ ogrzewanie jest elektryczne dom nie musi mieć pom. gospodarczego na kocioł. Jeżeli jednak była by potrzeba zmiany sposobu ogrzewania na inny to pom. nr 7 może pełnić funkcję pom. gospodarczego w którym zlokalizuje się kocioł.
Na dachu jest miejsce na zamontowanie paneli fotowoltanicznych. Działka na której można wybudować dom może mieć tylko 18.55 m szerokości – przy odległości tarasu od granicy działki 1.50m. Kiedy taras zostanie przeniesiony od frontu to działka na której można wybudować ten dom może mieć nawet 16.85m szerokości.
---
Projekt występuje w wariancie w z wentylacją mechaniczną EPSYLON (wersja podstawowa)
---
SPRAWDŹ WARUNKI ZABUDOWY LUB WYPIS Z MPZP
Poza minimalnymi wymiarami działki oraz odpowiednim nasłonecznieniem, istotne są również przypisane do każdej nieruchomości tzw. Warunki Zabudowy lub ograniczenia określone w Miejscowym Planie Zagospodarowania Przestrzennego. Jeśli masz wątpliwości oferujemy BEZPŁATNĄ ANALIZĘ WARUNKÓW ZABUDOWY.
Prześlij skan działki
PARAMETRY BUDYNKU
Pow. użytkowa budynku 89,31m2
ilość pokoi (bez pokoju dziennego / salon) 3
ilość łazienek 1
ilość wc (dodatkowych) 1
ilość miejsc w garażu 0
Pow. zabudowy 118,15m2
pow. tarasów 59,51m2
min. szerokość działki (frontu) 18,55m
min. długość działki 20,05m
Pow. dachu 140m2
wysokość budynku 6,71m
kąt nachylenia dachu 35o
Kubatura 243,82m3
Charaketrystyka energetyczna
EP 37,28 kWh/(m²rok)
EK 33,53 kWh/(m²rok)
EU 24,26 kWh/(m²rok)
TECHNOLOGIA BUDOWY
fundamenty  – płyta żelbetowa na gruncie
ściany zewnętrzne – beton komórkowy gr. 24cm + styropian  gr. 30cm
ściany wewnętrzne konstrukcyjne – brak
strop  – drewniany
konstrukcja dachu – drewniana

---
INSTALACJE
Sanitarne
wodno-kanalizacyjna
centralnego ogrzewania – elektryczne
rodzaj grzejników – grzejniki naścienne + miejscowo podłogowe (salon, kuchnia) – maty
Elektryczne
 rozdzielnice, gniazdka, włączniki
możliwość podpięcia paneli fotowoltanicznych
Wentylacja – grawitacyjna

---
WYKOŃCZENIE
pokrycie dachowe – dachówka cementowa/ceramiczna
ścianki działowe – bloczki silikatowe
schody  wewnętrzne – wyłaz stropowy
schody zewnętrze – na gruncie
okna w ścianach – PVC lub drewniane

---
Projekt występuje w wariancie z wentylacją mechaniczną – EPSYLON
WARUNKI TECHNICZNE 2021
KONSTRUKCJA - EUROKODY
W CIĄGŁEJ SPRZEDAZY